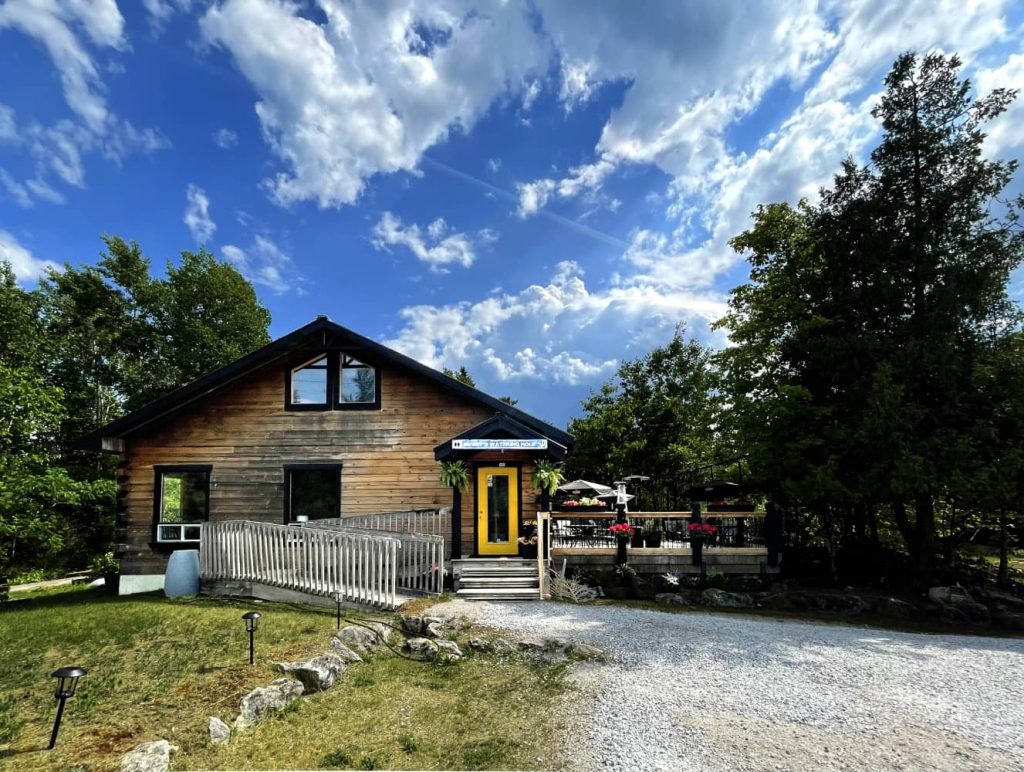 Welcome to the only pub in the Lac Ste Marie! It's a great place to meet with friends after skiing, golfing, or anything else you may be doing in the area. With plenty of outdoor and indoor seating we're ready to accommodate you and your guests any time of the year.
This pub has been well known to locals and tourists alike for the past decade and a half as Le Pub McVey. Recently, the ownership changed with Chris Malo and Melissa Bouchard taking over as the owners and updating the restaurant interior and menu to match their style.
Chris hails originally from Ottawa and Melissa, who is a quarter Cree, has roots in Northern Ontario. Chris knows Lac Ste Marie well and has been camping and enjoying the outdoors with friends in the area for the past 25 years.
Both Chris and Melissa have extensive experience in the Ottawa valley restaurant and hospitality industry in both high end and family restaurants. Chris purchased his first street food truck when he was only 17 years old with help from his dad and has been in the restaurant industry ever since, loving every minute of it. Melissa has made her mark in the industry working in various restaurants and enjoys helping with both service and management.
They now proudly own land at Lac Poisson Blanc. Melissa's mother recently moved to Lac Ste Marie which means their roots are planted and you're sure to be in for some fun surprises, upgrades, and delicacies from Chez Malo.
If you're already familiar with the pub, you can't miss some of the changes that have been made including a new sound system, TVs, updated décor, fresh new tabletops and 3 new beer taps! All of these updates have been done while continuing to offer excellent dine in food either inside or on the patio. Chez Malo is also now offering local delivery. This is the first delivery available in the area that anyone can remember!
The menu at Chez Malo changes often with specials and new dishes ike the Poke bowl that Melissa introduced as soon as they re-opened. While Melissa has focused on changing the menu to be more locally sourced and increasing the wine selection, Chris has focused on physical improvements and the availability of locally sourced craft beers. Both of which combine to provide the experience you'd expect from a small, local passionate food establishment.
They are both happy and confident about the future. Most importantly, they are extremely grateful for the warm welcome they have received from both the locals, whom they are seeing more and more, and the seasonal customers. They envision preserving a local, inclusive and warm atmosphere- this is essential. Definitely seems like a winning recipe.
Stop in and experience Chez Malo for yourself today! Reserve here, or contact us today for more information.